Sunday May 5, 2019
4pm – 7pm
Main Event, Grapevine
What an exciting opportunity for Aggies to partner with Main Event Grapevine for a Spirit Night. Our chapter will receive 20% of proceeds from all patrons during our event time. Bring friends and family for a great afternoon and a wonderful cause.
Below are the details..please let me know if you can volunteer to help out.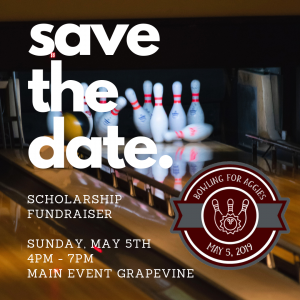 1. We will have a table at the main entrance where we can sell raffle tickets and shirts/swag in addition to soliciting receipts as customers leave.
2. We are looking into a few ideas for the raffle but if you have anything that could be fun just let me know.
3. Main Event encourages us to walk around and solicit receipts so please be sure to wear your Aggie Attire!