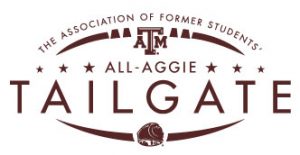 Join the Northeast Tarrant County A&M Club at the ALL-AGGIE TAILGATE!
September 29th: BTHO Arkansas!
Kick off at AT&T Stadium: TBD
Tailgate start time: 3.5 hours before kick off
Starts 3.5 hours before kickoff! Every year The Association of Former Students partners with local A&M Clubs in away game cities to host the All-Aggie Tailgate. The free event, which includes food, drinks and Aggie camaraderie, is one of many ways that The Association of Former Students works to accomplish part of its mission of perpetuating ties of affection and esteem formed during university or college days, all while helping local A&M Clubs raise funds for scholarships.