The Northeast Tarrant County A&M Club is excited to join the Dallas A&M Club and Fort Worth/Tarrant County A&M Club as a cohost for the 2018 DFW AGGIE Golf Classic.  All money raised from the golf tournament benefits the scholarship funds of these three clubs.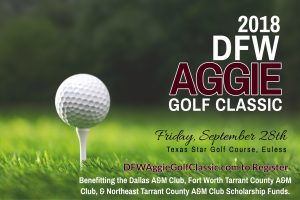 If you would like more information about the golf tournament, send an email
to info@netcaggies.com or to our DFW AGGIE Golf Classic Coordinator,
Joel Bittick '91 at joelbittick@msn.com.