WELCOME TO THE NORTHEAST TARRANT COUNTY A&M CLUB!
The NETC A&M Club is open to all former A&M students and their spouses/families who reside in the Northeastern portion of Tarrant County. Membership dues and other funds raised by the club directly support scholarships for high school students planning on attending Texas A&M University.

---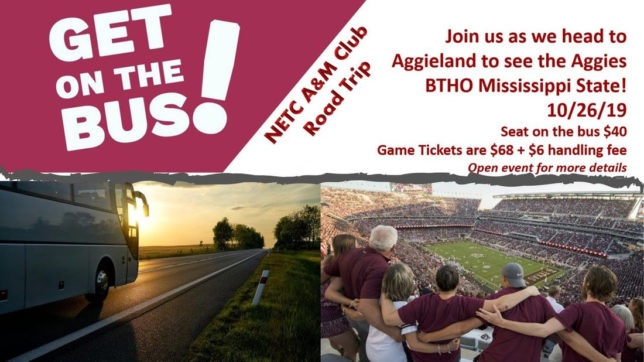 Northeast Tarrant County A&M Club is chartering a bus for the 10/26/19 game against Mississippi State in College Station. What's better than spending the day in Aggieland cheering on our Ags?
The charter bus is extremely nice and has restroom, wifi, power ports, etc. We have 56 seats available and you can purchase your reserved seats below! You can BYOB on the bus. Bus reserved seats are $40/person.
Through the 12th Man, we are securing a block of football tickets in Section 411 – Rows 14-17. Tickets are $68 plus a $6 handling fee. Tickets will be sent to your email. You can purchase the tickets by copy and pasting this link: https://bit.ly/2lAY9Gm
The kickoff is set for 11am.  Our current plan is to have the bus leave from the Grapevine Library parking lot at 6:30am in time to arrive a couple of hours before the game.  Departure for the return is approximately 3pm, or about an hour after the game ends.
We look forward to a great day! Please let us know if you have any questions at info@netcaggies.com
---
The next NETC Game Watch Party!
At Wise Guys Pizzeria – Grapevine
More info on Facebook…
---
Sunday, Oct. 27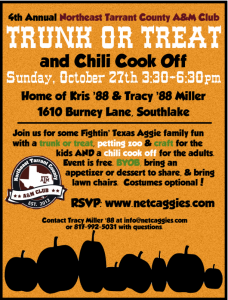 3:30-6:30 p.m.
Break out the costumes and have some Halloween fun at NETC's annual family-friendly Trunk or Treat & Chili Cookoff. A great and safe way to network with fellow Aggies and go home with a little candy too!
This is a free event, but we ask that you register and bring a crockpot of chili, a side or dessert. Check our website at www.netcaggies.com or follow us on Facebook and Instagram to purchase tickets and learn more.
---
Dec. 8, 2019 – Lone Star Showdown with the Fort Worth A&M Club
NETC Aggies are partnering with Fort Worth A&M Club and have secured tickets at Dickies Arena!
Order Lone Star Showdown tickets!
---