WELCOME TO THE NORTHEAST TARRANT COUNTY A&M CLUB!
The NETC A&M Club is open to all former A&M students and their spouses/families who reside in the Northeastern portion of Tarrant County. Membership dues and other funds raised by the club directly support scholarships for high school students planning on attending Texas A&M University.

---
July 2019 NETC Happy Hour is cancelled
We will resume In August with a combo happy hour/game watching party for the season opener. More details later!!
---
42 Domino Tournament August 24
The 3rd (almost) annual NETC A&M Club 42 Domino Tournament will be at Wise Guys Pizzeria in Grapevine on August 24.
See the 42 Domino Tournament page for details.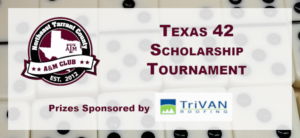 ---