2020 Aggie Muster
March 23, 2020
Howdy NETC Aggies,
On behalf of the NETC A&M Club Board, I write to you today to inform you that we have made the difficult decision to cancel the 2020 Muster ceremony in Northeast Tarrant County. Our ultimate purpose for Muster each year is to honor our fallen Aggie Comrades from the prior year to the fullest extent, and we felt like hosting an online event would not allow us to meet the standards that we hold ourselves to when putting on this event each year. The families of our 8 fallen from 2019 will be invited back in 2021, and any purchased tickets and donations will be refunded.
Regardless of this decision, please be assured that the name of every Aggie whose death was reported since the last Muster, will be called and answered with "Here" on April 21. Since 2018, The Association of Former Students has organized a live reading each April of the entire year's roll, more than 1,600 names broadcast and  live streamed from the Clayton W. Williams, Jr. Alumni Center. Plans are in motion to ensure that the live Worldwide Roll Call takes place again this year, so we assure you that every name will be called on campus again this year.
Finally, as you know, when and how you Muster are not as important as that you Muster. With that in mind, The Association of Former Students strongly encourages you to follow the guidance from medical experts and federal, state and local officials and not gather for Muster on or around April 21. I encourage you to celebrate Muster this year by supporting your favorite local restaurant, spending this day with your family, and to "live over the days you spent at the A&M College of Texas." We'll see you again on April 21, 2021.
Thanks, Gig 'Em, and Stay Safe,
Blake J. Wolf '14
NETC Muster Chair
www.netcaggies.com
For additional Muster resources, please visit:
https://www.aggienetwork.com/muster/
For more information please contact
Muster Chair: Blake Wolf
940-923-6983
muster@netcaggies.com
To have a name added to the Muster Roll Call, please email muster@netcaggies.com
---
2020 Muster Guest Speaker: Lt. Col. Gary Maddux '90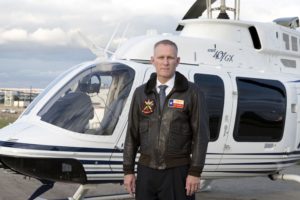 Lt. Col. Gary Maddux served 20 years in the United States Marine Corps as a CH-53E pilot, including multiple leadership positions.
Highlights include deployments to Okinawa (with 31st Marine Expeditionary Unit, on the USS Wasp (with 22nd MEU during Operation Enduring Freedom) and serving as a Marine One Helicopter Pilot with Marine Presidential Helicopter Squadron One during 43's (George W Bush) second term.
After retiring from the Marine Corps, Gary served as an instructor pilot with Airbus helicopters and trained Army Aviators in the UH-172 Lakota, assisting the US Army with the transition into the new helicopter. He is currently the Chief Helicopter pilot at Hill Air Corporation
At Texas A&M, Gary was a member of Corps units S-2 and N-1. He graduated in December, 1990 with a BS is Agricultural Economics. Gary and his wife, Nancy '89, have four children, all Aggies , classes of '14,'16, '18, & '21.
---
Muster is one of the most time-honored traditions at Texas A&M, and is held on April 21 every year.  Informal gatherings began as early as 1883, but the event was officially recognized in 1922. What Texas A&M students feel is not just the camaraderie of fellow Aggies, it is the Spirit of hundreds of thousands of Aggies who have gone before us, and who will come after us. Muster is how that Spirit is remembered and celebrated, and it will always continue to unite Texas A&M and the Aggie family.  Today, Muster is celebrated at more than 300 locations worldwide. To learn more about Muster, click here to go to A&M's website.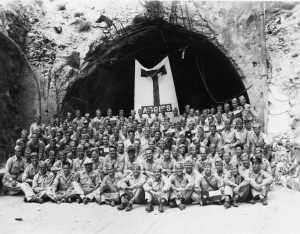 (A 1946 Muster of Aggies in the Philippines at the end of World War II)