2023 Aggie Muster
April 21, 2023
Muster 2023 info coming soon
White's Chapel United Methodist Church
185 S White Chapel Blvd, Southlake, TX 76092

Muster Donations are being accepted
Donations of any amount are greatly appreciated to help continue funding our scholarships to local future Aggies!
For additional Muster resources, please visit:
https://www.aggienetwork.com/muster/
For more information, please contact
Muster Chair: Blake Wolf
940-923-6983
muster@netcaggies.com
To have a name added to the Muster Roll Call, please email muster@netcaggies.com
2023 Muster Guest Speaker:  To Be Announced
---
2022 Muster Guest Speaker: Southlake Mayor and NETC A&M Club co-founder, John Huffman
---
Muster is one of the most time-honored traditions at Texas A&M and is held on April 21 every year. Informal gatherings began as early as 1883, but the event was officially recognized in 1922. What Texas A&M students feel is not just the camaraderie of fellow Aggies, it is the Spirit of hundreds of thousands of Aggies who have gone before us, and who will come after us. Muster is how that Spirit is remembered and celebrated, and it will always continue to unite Texas A&M and the Aggie family. Today, Muster is celebrated at more than 300 locations worldwide. To learn more about Muster, click here to go to A&M's website.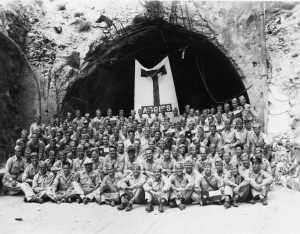 (A 1946 Muster of Aggies in the Philippines at the end of World War II)
---