2023-24 Scholarship Application
Texas Aggies are known worldwide for our active, enthusiastic support of Texas A&M and The Association of Former Students. The Northeast Tarrant County A&M Club is proud to offer Scholarship opportunities for 2023-24 incoming freshmen at TAMU
College Station and/or Blinn TEAM in Bryan. Applicants, please note it is very important that you read all criteria and submission details in the application itself.
The NETC A&M Club offers this scholarship without regard to race, religious preference, gender, or ethnic origin. All information contained in your application will be held in the strictest of confidence by the scholarship committee, except as noted for the promotion of the scholarship program.
Questions? Email Scholarship@NETCAggies.com
Former Students: Please consider becoming a NETC Aggie Scholarship Sponsor. This is a wonderful way to promote your business, honor or remember a loved one, etc. Your donation directly benefits our local future Aggies! Whoop!
APPLICATION AND AWARD ANNOUNCEMENT TIMELINE:
Complete the application in full, attach any supporting documents, and send by mail with a postmark no later than February 28, 2023. Your name needs to be at the top of every page submitted.
Official high school transcript is required for application to be reviewed. The Transcript for your high school counselor is the only part of the application that can be emailed. Have it sent from the school to Scholarship@NETCAggies.com.
All Applicants will be notified of the Review Committee's decision by the end of March.
2022-23 Scholarship Award Winners
---
The NETC A&M Club Tracy Miller Spirit of Aggieland Award
Our new Scholarship Award is named in honor of our past president, Tracy Miller '88, who serves her community with a spirit of joy and grace. Tracy transitioned the NETC A&M Club from the early days of the Gig 'Em Club to a fully recognized, chartered A&M Club. Under her leadership, we broadened community impact through community service, student recruitment, scholarships, Destination Aggieland, membership growth and Muster, to name a few. She introduced the Howdy Trip, where countless number of high school juniors experience an all-expense paid trip to Aggieland that includes a campus tour, sessions with admissions advisors, meet and greet with Reveille, yell practice and more. In her personal and professional life, Tracy exemplifies our University's core values.
In the community, she is President of Carroll High School AP Boosters, serves with her son in the Young Men's Service League and is active at White's Chapel UMC. Having a big heart for animals, Tracy volunteers as a foster mom for dogs, having cared for over 450 dogs since March 2019. Tracy says she does it to be the voice, like an agent, for the dogs, working to know their personalities and helping to match them with their forever families. She sees foster care of animals as a ministry, touching the hearts of dogs and humans alike. Together with her husband Kris '88, they raised three daughters, all Aggies, Abby '15, Hope '17, Macy '21. Their son, Sloan, hopes to be Class of '26, a tradition that started with Tracy's father, Ray Sloan '53. Tracy is a commercial real estate broker for Glacier Commercial Realty.
2022-23 Tracy Miller Spirit of Aggieland Award Winner:
---
2022-23 NETC Aggie Club Scholarship Awards
Sloan Miller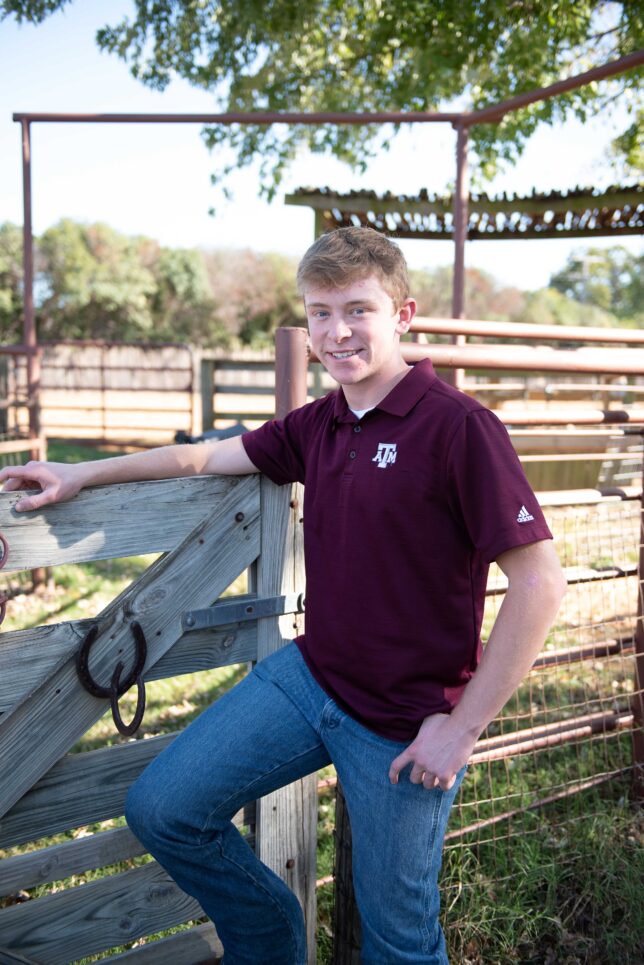 Congratulations to Sloan Miller, a 2022 graduate of Carroll Senior High School, for receiving The Tracy Miller Spirit of Aggieland Scholarship Award. The judges were amazed by his high achievements in academics while he also voluntarily served his school and the community all four years, and whilst actively participating in football and lacrosse. As an active member of the National Honor Society, Fellowship of Christian Athletes, Key Club and White's Chapel UMC Youth ministry, Young Men's Service League, Business Professionals of America, Southlake Kids Interested in Leadership, he also often served in an officer or committee lead role. He was the Founder of Libba's Wish, a community service outreach program to partner with local senior centers to bring farm animals and volunteers for monthly visits with residents, even throughout the pandemic shutdown when they were feeling isolated. Sloan also worked part-time jobs. It's easy to see that Sloan touches heart and lives of all ages while living to his full potential.
Sloan is in the Business Honors Program in Mays Business School, and is pursuing a degree in accounting, with a goal to achieve either a master's in finance through the PPA program, or in real estate through MRE program. He also plans to minor within TAMU agriculture school to learn more about the industry and explore how he can incorporate agriculture into his future business career.
Sloan fondly acknowledges the influence of his grandpa, Ray Keith Sloan '53, on his decision to be an Aggie, and in his daily life as his best friend. His mom joked that he wa the only elementary school kid with an 80-year old best friend. He was named after his Grandpa, to carry on the name. Maroon blood flows through Sloan's parents, Kris '88 and Tracy '88, and his three sisters who all graduated from the TAMU PPA program. While you may have noticed the coveted NETC Spirit of Aggieland Award is named in honor of his Mom, let it be known the judges saw Sloan earning this on his own merit, and as a celebration of his personal commitment to excellence. When a young man can humbly tell others that he learned what it means to stay true to values, through words and actions of elders, we know we have an Aggie who exemplifies the core values of Texas A&M. Sloan Miller '26, we are grateful you will carry on the legacy of many Aggies who have gone before you. Thanks for making us proud, and Gig 'em.
---
Sam Loeffler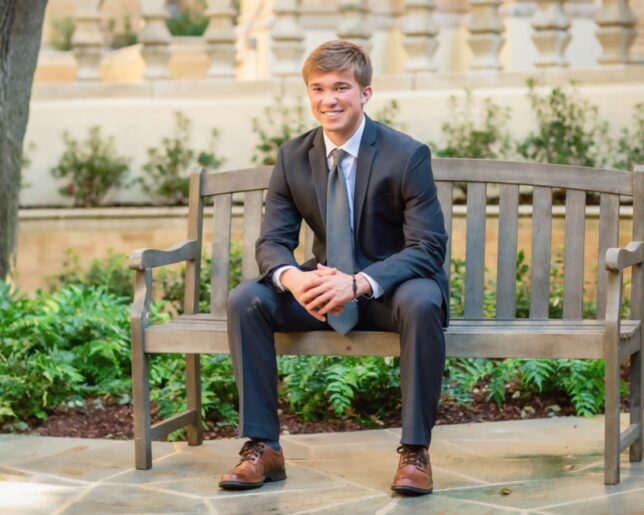 Sam Loeffler graduated from Keller High School with top 10% Distinction all four years, was an Academic All-State Athlete, a Keller ISD PSAT National Merit Cohort, member of the he marching band, on school and club soccer teams, in the Parent-Teacher Student Association, and in the Keller High Green Cord Program. Sam also worked part-time as an Engineering Intern at G Systems in Richardson. In addition, in 3.5 years that included pushing through a pandemic, Sam served over 400 hours in community service and volunteer work at his church (White's Chapel UMC), in the Keller community with the chamber of commerce, library, the schools and more. Well, yes, of course this is all impressive and yet, there's more. From the tender age of five, Sam has endured a rare eye disorder that affects fewer than 200,000 people in the US. Refusing to let it define who he is, he processes the fighting of this disorder with gratitude to the family, friends and quote, "brilliant minds working in service to others" to show him the type of person he aspires to become. He was positively impacted by many, many doctors who, while treating him medically and personally as a young boy/man growing up, also helped his family with the emotional toll that this disorder presented. This sounds like our beloved TAMU core value of integrity, which is doing the right things regardless of the circumstances or personal consequences. He chooses to see the right thing and the blessings in trials.
Sam states it is his mission to reach "the top of his profession, to solve hard problems, and to find fulfillment in helping others," and he believes a degree in civil engineering through the TAMU Engineering Honors Program will inspire this passion and equip him to solve the type of environmental problems he sees as a challenge for his generation. Some of Sam's goals include designing modern and advanced structures that contend with the unique and evolving environmental and climate challenges of this current time.
The NETC A&M Club respectfully applauds Sam and his parents (Alicia '97) for living with an unwavering desire and commitment to humble greatness.
---
Sydney Martin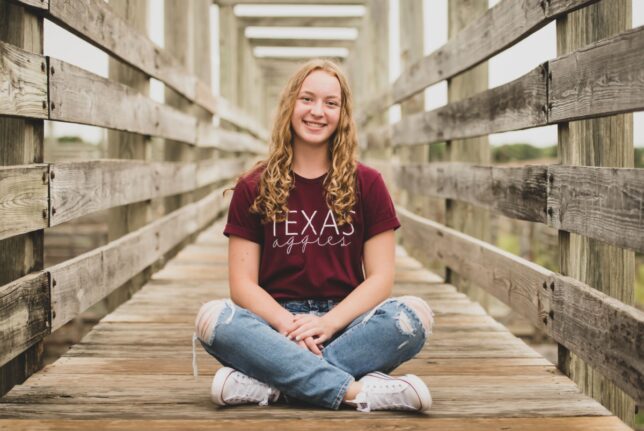 Sydney Martin, a 2022 graduate of Birdville High School, is a young woman who is wise beyond her years. Currently a freshman Psychology major at TAMU, this fully maroon-blooded Aggie finished high school in May 2022, ranked #9 in a class of 438. She was an AP Scholar, lettered in Academics for three years, served as a captain and received many awards in volleyball, was in National Honor Society, Character Counts, and Birdville Buddies. Sydney's volunteer hours log showed diversity and dedication in both her school and community.
She poured her heart into letting us know her vulnerable side, revealing that she overcame many challenges, demonstrating her gratitude to have grown through and learned from said challenges. Oh that we all could look at the people and world around us and be as grateful as Sydney, even in tough times, and then dare to reevaluate with whom and how we spend our time and energy. She chose to challenge herself and take on new skills/training as a summer lifeguard and swim instructor. In the process, she became more confident and realized her value. This young Aggie decidedly and purposefully says she will work in the mental health profession to find a way to improve the world for future generations, wanting to seek methods to treat mental illness, such as therapy, to be more socially acceptable economically affordable, and easily accessible. She hopes to explore and help develop preventative measures in schools for people experiencing mental struggles. From an early age, she has been a confidant, friend and mentor to others.
Sydney thanks her parents and grandfather for teaching her the traditions and culture of A&M. With her heart of gold, Sydney will help many Aggies on our now very large campus appreciate what she sees as "beautiful and peaceful," helping others find their Aggie family feeling. Congratulations Sydney. Know that we believe in you!
---
Erin MacLean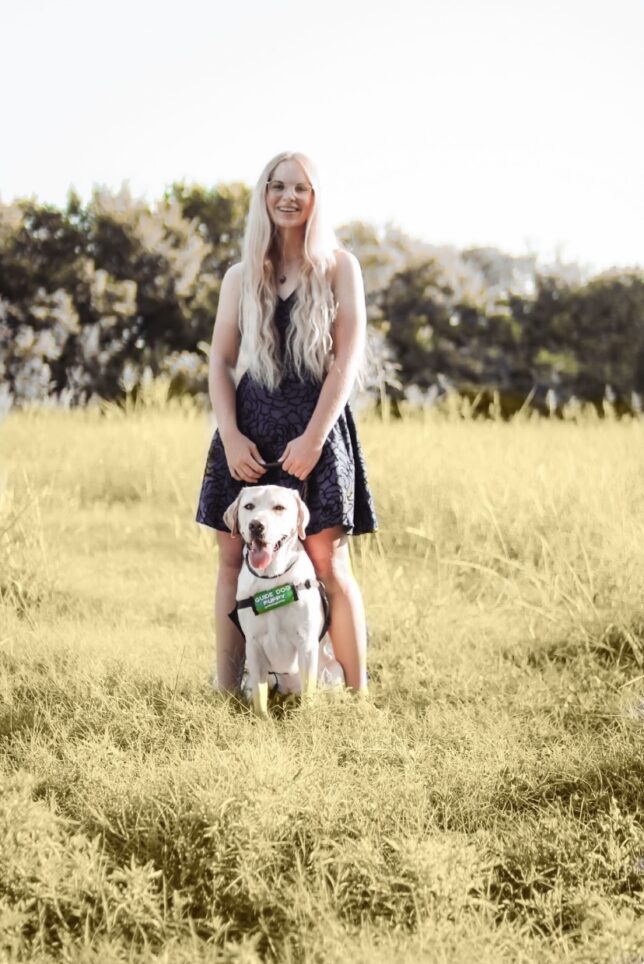 Erin MacLean hails from Byron Nelson High School and is now on the pre-vet track as an Animal Science major at TAMU. While in high school, Erin enjoyed FFA, National Honor Society, National Technical Honor Society, Band and the Environmental Club, with her greatest love being Guide Dogs for the Blind. She also served as an active volunteer in diverse, work-centered community groups, from Victory Therapy horseback riding to food drives, park clean-ups, barn cleaning, US flag-placements and more. Erin dreams of becoming a Veterinarian and is excited for the research opportunities at our beloved University, drawn towards the evident agricultural climate of TAMU for different livestock and large animals. At A&M, Erin continues her passion in the student-run program, Guide Dogs for the Blind. From an early age, as a non-disabled person, she learned about the uphill battle that is navigating the world as a disabled person, and how difficult it is to gain respect for service animals and their important purpose.
When a young person can tell you that one of her greatest persons of influence is someone who "demonstrates an enormous level of compassion and empathy to everyone and everything she meets," it warms your heart. Erin shared that one of her biggest role models is her Aunt Katherine, through whom she understood the value of how a service dog can create a safe space for the disabled, thus driving Erin to want people to learn and appreciate the critical importance of, respect for, access to and training for much-needed, service animals. Erin MacLean, we see you as a person of Selfless Service and we look forward to hearing about your accomplishments!
---
Cody Loomis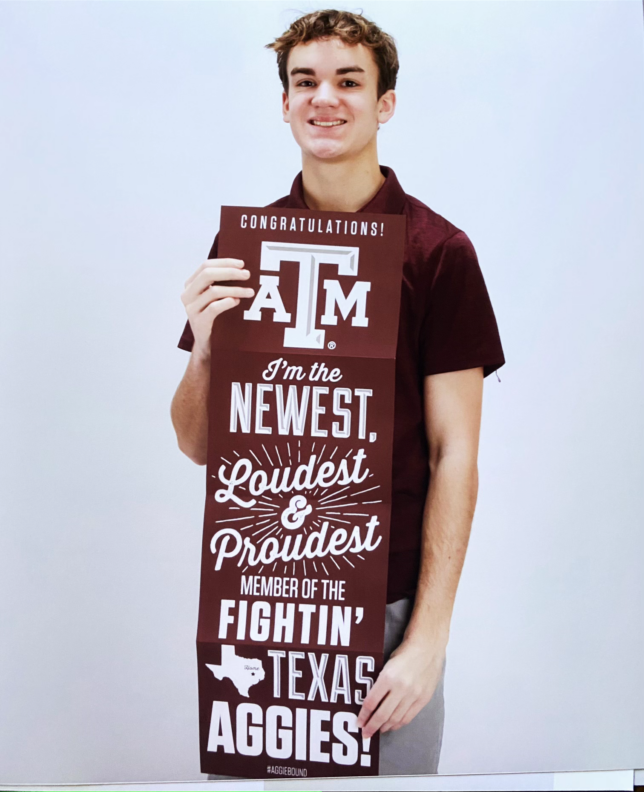 Cody Loomis enjoyed many extracurricular activities as a Southlake Carroll Dragon before graduating in May 2022. He was a leader in the Carroll HS marching and concert bands, Robotics, and succeeded in Karate, and National Honor Society and the STEM program. He was also actively volunteering as a worksite leader in the Dragon Event, at St. Francis Catholic Church, and in Martial Arts instruction while working part-time. In addition, Cody excelled in Carroll's STEM program (Science, Technology, Engineering and Math). In Robotics competitions, Cody was a Skills Champion, two time Judges Awards winner and Innovate Award designee.
Recognizing TAMU has a top-notch engineering program, he aims to work in the automotive industry as a mechanical engineer, using his high performance and enjoyment of classes in AP Physics, AP Calculus, and robotics. We are fortunate to have a bright student such as Cody who wants to improve the lives of others by learning to improve electric car motors by making them more efficient, reliable and safer in this ever-changing and developing industry.
Cody proudly follows in his Aggie parents' footsteps (David '97 and Heather '97), and particularly into the Corps of Cadets like his father. He is in Company E1. learning from them that to be an Aggie is an honor, with his favorite memories being trips to Aggieland as he grew up. Cody, we are impressed with your achievements to date and feel certain your continued hard work and dedication will lead to great things. Thanks and Gig 'em!
---
NETC A&M CLUB SCHOLARSHIP – Official Residential Zip Codes
| | | |
| --- | --- | --- |
| Start Zip | End Zip | City |
| 76011-7723 | 76011-7723 | Arlington |
| 76021-1123 | 76021-8206 | Bedford |
| 76022-4000 | 76022-8939 | Bedford |
| 76034-4148 | 76034-8812 | Colleyville |
| 76040-2581 | 76040-2581 | Euless |
| 76051-0901 | 76051-8805 | Grapevine |
| 76052-0184 | 76052-6821 | Haslet |
| 76053-2163 | 76053-8429 | Hurst |
| 76054-1900 | 76054-6047 | Hurst |
| 76092-0101 | 76092-9789 | Southlake, Grapevine |
| 76095-0192 | 76095-8983 | Bedford |
| 76099-0032 | 76099-3926 | Grapevine |
| 76118-6974 | 76118-6974 | Ft Worth, NRH, Richland Hills |
| 76148-4026 | 76148-4030 | Ft Worth, Haltom City, NRH, Watauga |
| 76177-0175 | 76177-8565 | Ft Worth |
| 76180-0203 | 76180-9092 | NRH, Ft Worth, Haltom City, Richland Hills |
| 76182-0661 | 76182-9803 | NRH, Ft Worth |
| 76244-0044 | 76244-9563 | Keller, Ft Worth |
| 76248-0112 | 76248-9756 | Keller |
| 76262-5931 | 76262-9803 | Roanoke, Northlake, Trophy Club, Westlake |
---
Previous Scholarship Recipients
2021-2022
Tracy Miller Spirit of Aggieland Award Winner: Kareena Patel, Keller High School
Jack Mull, Keller High School
Michael Orgunov, Timber Creek High School
Christopher Hay, Carroll Senior High School
Megha Subhash, Carroll Senior High School
2020-2021
Tracy Miller Spirit of Aggieland Award Winner:
Blake Dorman, Carroll Senior High School
Peyton Clark, Carroll Senior High School
Morgan Davidson, Carroll Senior High School
Katelyn Lancaster, Keller High School
Katherine Loomis, Carroll Senior High School
Cole Ragsdale, Carroll Senior High School
2019-2020
Troy Chmiel, Keller High School
Corinne Petersen, Carroll High School
Hannah Brigmon, Ft Worth Christian High School
Ava Lamberth, Timber Creek High School
Rachel Gruenbaum, Bethesda Christian High School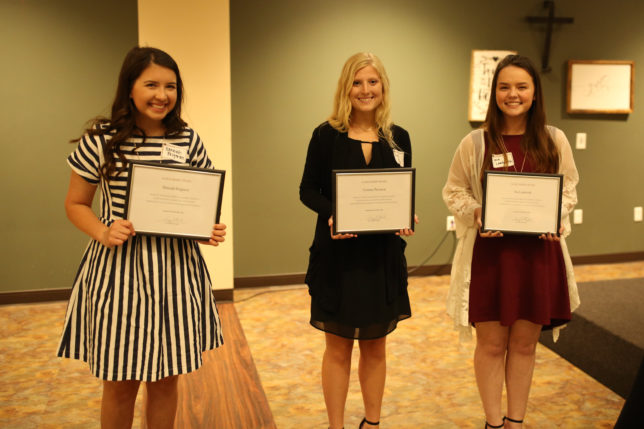 2018-19
Jacob Abell '22, Keller High School
Drew DeHaven '22
Garrett Kuketz '22
Claudia Oster '22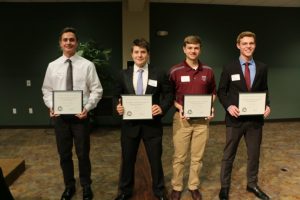 2017
Macy Miller '21, Carroll High School
Graham Ryan '21, Colleyville Heritage High School
If you would like more information about the scholarships, send an email
to info@netcaggies.com or to our Scholarship Coordinator,
Carol Smith '82 at Scholarship@NETCAggies.com.