The Northeast Tarrant County A&M Club (NETCAMC) provides Former Students of Texas A&M an opportunity to reconnect in our local community.  Each year, the club awards scholarships to graduating seniors in Northeast Tarrant County who plan on attending Texas A&M University. Scholarships awarded are based on academic performance, extracurricular involvement, community  service, and leadership contributions.
Scholarships are presented each year at our annual Muster Ceremony. Please consider becoming a NETCAMC Scholarship Sponsor. This is a wonderful way to promote your business, honor or remember  a loved one, etc. Your donation directly benefits our local future Aggies! Whoop!
2020-21 NETC A&M Club Scholarship Application
The 2020-2021 NETC Scholarship Application will be posted on this website by February 1, 2020. Please check back then. Application deadline will be March 30, 2020. Awardees will be notified individually by telephone in mid-April.
Save the date! Scholarship Recipients and parents are invited and highly encouraged to attend the Northeast Tarrant County A&M Club's Muster Dinner and Ceremony on Tuesday, April 21, 2020 for official presentation to our Club Scholarship Donors.
We base the Award on the following criteria: Academic Performance, Character and Leadership Contributions (including extracurricular involvement and community and volunteer services), and responses to three Essay Questions. Also, an official High School Transcript is required. The Application will indicate all requirements and details.
NETC A&M CLUB SCHOLARSHIP – Official Residential Zip Codes
Start Zip
End Zip
City
76011-7723
76011-7723
Arlington
76021-1123
76021-8206
Bedford
76022-4000
76022-8939
Bedford
76034-4148
76034-8812
Colleyville
76040-2581
76040-2581
Euless
76051-0901
76051-8805
Grapevine
76052-0184
76052-6821
Haslet
76053-2163
76053-8429
Hurst
76054-1900
76054-6047
Hurst
76092-0101
76092-9789
Southlake, Grapevine
76095-0192
76095-8983
Bedford
76099-0032
76099-3926
Grapevine
76118-6974
76118-6974
Ft Worth, NRH, Richland Hills
76148-4026
76148-4030
Ft Worth, Haltom City, NRH, Watauga
76177-0175
76177-8565
Ft Worth
76180-0203
76180-9092
NRH, Ft Worth, Haltom City, Richland Hills
76182-0661
76182-9803
NRH, Ft Worth
76244-0044
76244-9563
Keller, Ft Worth
76248-0112
76248-9756
Keller
76262-5931
76262-9803
Roanoke, Northlake, Trophy Club, Westlake
Previous Scholarship Recipients
2018-19
Jacob Abell '22, Keller High School 
Drew DeHaven '22
Garrett Kuketz '22
Claudia Oster '22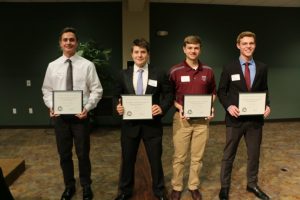 2017
Macy Miller '21, Carroll High School 
Graham Ryan '21, Colleyville Heritage High School
If you would like more information about the scholarships, send an email
to info@netcaggies.com or to our Scholarship  Coordinator,
Carol Smith '82 at csmith.aggie@gmail.com.