The Northeast Tarrant County A&M Club (NETCAMC) provides Former Students of Texas A&M an opportunity to reconnect in our local community.  Each year, the club awards scholarships to graduating seniors in Northeast Tarrant County who plan on attending Texas A&M University. Scholarships awarded are based on academic performance, extracurricular involvement, community  service, and leadership contributions.
Scholarships are presented each year at our annual Muster Ceremony. Please consider becoming a NETCAMC Scholarship Sponsor. This is a wonderful way to promote your business, honor or remember  a loved one, etc. Your donation directly benefits our local future Aggies! Whoop!
The application deadline is March 30, 2019.
Scholarship Recipients and parents will be invited to attend the Northeast Tarrant County A&M Club's Muster Dinner and Ceremony on Monday, April 22, 2019.

Previous Scholarship Recipients
2018-19
Jacob Abell '22, Keller High School 
Drew DeHaven '22
Garrett Kuketz '22
Claudia Oster '22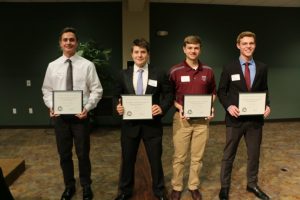 2017
Macy Miller '21, Carroll High School 
Graham Ryan '21, Colleyville Heritage High School
If you would like more information about the scholarships, send an email
to info@netcaggies.com or to our Scholarship  Coordinator,
Carol Smith '82 at csmith.aggie@gmail.com.