2019 Registration is closed. Check back in Summer 2020.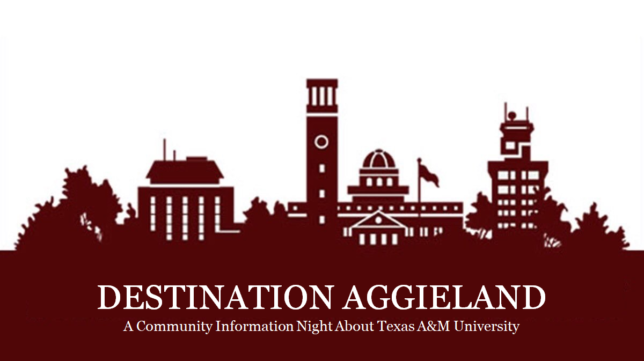 Monday, Sept. 30, 2019 – 7:00 pm




White's Chapel UMC – Southlake
Thinking of attending Texas A&M University? If you are a middle school or high school student/parent, make plans to attend this FREE informational night that will include presentations by a Texas A&M admissions adviser, recent graduates, & local alumni.
Topics discussed will include:
Application Process, Admissions, AP/Dual Credit, Scholarships/Financial Aid, On- Campus Housing, Blinn Team, Gateway Program, Texas A&M Galveston, Corps of Cadets & More!
Presented by:
Northeast Tarrant County A&M Club
Office of Admissions & DFW Prospective Student Center
Texas A&M Association of Former Students
If you would like more information about the Destination Aggieland, send an email
to info@netcaggies.com or to our Destination Aggieland Coordinators,
Catherine Smith '90 at ccottersmith@gmail.com.